What do you have planned for this year's festivities? If you're an artist at heart with a passion for pumpkin, we've got just the creative spark you need to kick off Halloween in style: pumpkin carving!
Pumpkin carving has been a Halloween tradition for years. Jack-O-Lanterns are one of Halloween's most widespread mascots, and can range from the simplest smiles to the grimmliest grimaces! Here are our top 13 favourite Jack-o-Lanterns!
13. Minion Dave

Who doesn't love Dave? Kick off your Halloween with a mascot that will bring all the kids to your yard! Silly Dave, that's a pumpkin! Not a banana!
12.Tinkerbell

Character silhouettes can easily be found online. Simply print one out and use it as a stencil for your pumpkin carving project. Here you can see a Tinkerbell, brilliantly cut, with a trail of fairy dust!
11. Whale, whale, whale. Water we have here?

Sometimes, simple is best. Have your kids help you draw simple drawings on a pumpkin, then carve out only the outer skin of the pumpkin to let the original drawing shine through. Groovy!
10. Hello Kitty Witch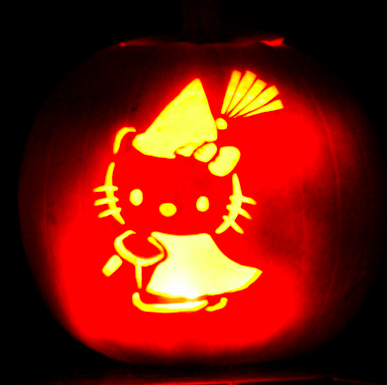 Hello Kitty is always ready to dress up for Halloween! Use large, sweeping shapes to draw outlines of complex characters, slowly filling in details to frame your masterpiece project. Kawaii!
9. Serene Twilight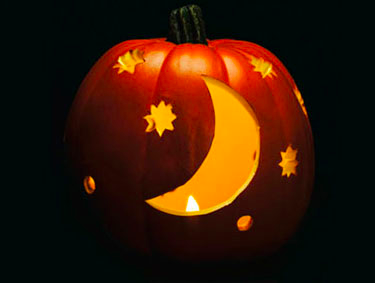 There's no requirement that your project has to be complex. A crescent moon and some stars can make for the perfect Jack-O-Lantern to add that serene mood to your Halloween decor.
8. Goofy Grimace
Looking to add personality to your Halloween decor? Try carving a Jack-O-Lantern with a goofy face! These light-up apparitions are always welcome to guide the wandering passerby through the night.
7. Spider-Pumpkin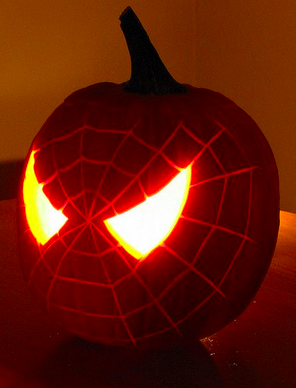 Simple, yet elegant with a spectacular finish. This Spiderman-themed pumpkin is sure to bring joy to all the superhero-loving kids in the neighborhood!
6. Spotted Pumpkins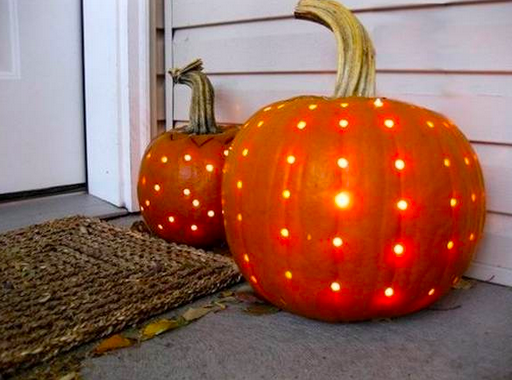 Unlike the other additions to this list, this project doesn't have much of a complex design. Simply adding holes wouldn't make for a good Jack-O-Lantern, right? Wrong! Adding spots to a pumpkin makes for a elegant decoration that doesn't draw attention away from your halloween animatronics and props. Don't make your setting too busy!
5. Pumpkin Words
Carving words out of pumpkins can have an amazing effect when the pumpkins are spread across the lawn. This Halloween 2015, keep your theme simple and center your decorations around a simple word or phrase, say, "Boo!"
4. Giftwrapped Pumpkins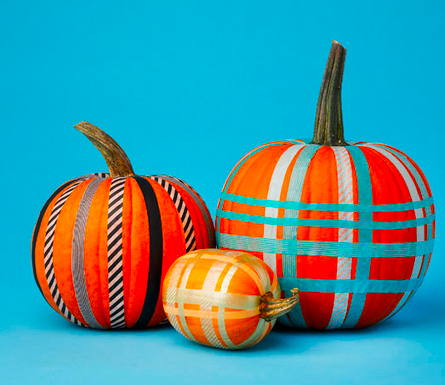 Tired of the traditional Jack-O-Lantern? Try gift-wrapping pumpkins for a creative spin, instead! These pumpkins work great as indoor decorations, adding festive splendor to your dinner table or party plates!
3. Patterned Pumpkins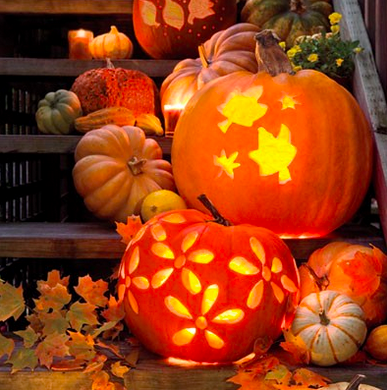 Grab some cut-out stencils from our halloween tools section and get to work! These patterned pumpkins are easy to make, with a profoundly fun effect on your lawn!
2. Pumpkin Messages
Who said carved pumpkins had to be hollow? Carve a heartfelt message on a pumpkin for a touching effect.
1. Model Pumpkins
The best part about pumpkin carving is that your creativity can run wild. No two Jack-O-Lanterns are the same! You can use pumpkins as props, centerpieces, or a part of a greater set of decorations! Do you have halloween ghost decorations around the house? Add a Jack-o-Lantern pumpkin head! Got some miniature ghost props? Make them a pumpkin house!
Pumpkin carving: a Halloween Arts & Craft classic!
Do you love Halloween? So do we! Check out our halloween stores across Canada, and take a look at our assortment of pumpkin art! Follow us on Facebook and Twitter for all the latest Halloween updates, cool costume features, and contests with amazing prizes!