Thanks to you, Halloween 2015 was a blast! From gruesome ghouls to zany zombies, we saw so many awesome costumes on Halloween night. We hope you had as much fun as we did!
It's been terrific seeing all of your costumes on social media! It was really hard to pick the winners for this year's competition, but we've finally been able to settle on the rankings for our 2015 Halloween Costume Contest!
2015 Halloween Costume Contest Winners
From Zombies to Batman, we saw ridiculously awesome costumes that made us cry, laugh, and gasp in amazement! We collected and reviewed every single photo submission on our Facebook, Twitter and Instagram pages and have crowned the following winners. If you see your name and photo submission here, email [email protected] to claim your prize!
First Place – Kayla's Mad Duo
The winner of our iPad Mini with Retina Display is @Ohhkayy from Instagram! This daring duo wore custom, hand-made Mad Max costumes for Halloween. Oh, what a duo. What a lovely duo!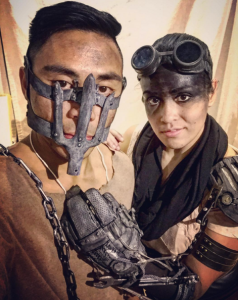 We love the detail on the prosthetic arm on Furiosa! You can see the attention to detail in pretty much everything on the costume!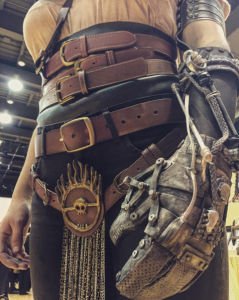 Here's a picture Kayla posted when working on the props for the costume. Look at the detail on that belt!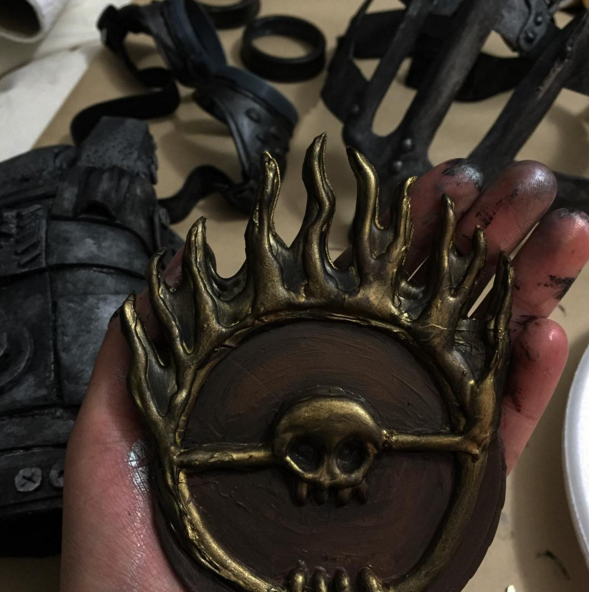 And here's the full shot of Kayla's DIY Mad Max costumes! Congrats, Kayla, you really earned first place in our Halloween Costume Contest!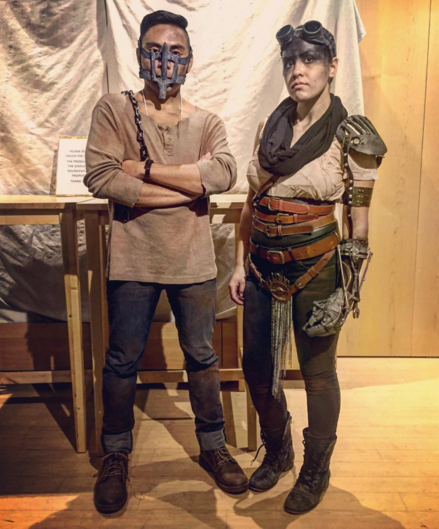 Second Place – Liza's Lizasaurus Rex
The winner of an iPod Touch, 16GB with WiFi is Liza Leung and her Lizasaurus Rex! We just love this adorable creation. From the tiny hands to the moving legs, everything about this costume just gives off a cool vibe. It's comical, fun, and nothing short of impressive!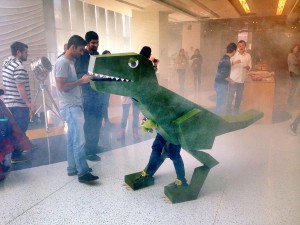 The Tyrannosaurus Rex is known to be the king of dinosaurs, but this Lizasaurus Rex surely tops the charts in our books! We hope you enjoy your new iPod Touch, Liza! It's teri-dino-rific!
Third Place – Nancy's Incredible Family
The Incredibles was a movie that lived up to its name. It's one of our favourite family superhero movies of all time! Nancy Williamson decided to bring us back to the good ol' days of superheroes with her family of Incredibles.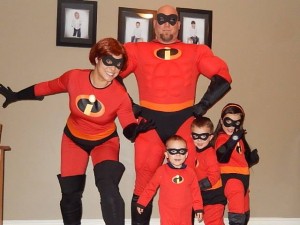 They've got super strength, they've got rubber form. They've got invisibility and speed. But the one thing they have the most is Halloween Style! Congrats Nancy-we hope you and your family enjoy your visit to the movies!
Stay in Touch!
Thanks for playing, everyone! Even if you didn't win our 2015 Halloween Costume Contest, you can still follow us on Facebook to win cool prizes every month. Halloween doesn't end on October 31st. Halloween is a lifestyle, and there are only 359 days left until Halloween 2016!
Follow us on Twitter and Instagram for cool updates and Halloween fun all year round! You can also subscribe to our newsletter so you'll be the first to know when we open next year. See you soon!
Celebrate Life. Halloween Style!