2017 was a very exciting year for us at Halloween Alley. Not only did we open Halloween stores all across Canada but we brought all of our Halloween costumes, decorations and makeup to our first ever Halloween shops in Australia too! With 2017 being our most international year yet, we've been looking back on which Halloween costumes you all loved last year.
You shared well over a thousand photos with us on how you celebrated Halloween 2017 so we got to see just which Halloween costumes were the year's most popular.
Inflatable Costumes
Back in October, dozens of inflatable dinosaur Halloween costumes took to the streets in Australia to meet the Halloween loving residents of Melbourne. And boy did people like them! If you don't-think-you-sauras there, the loveable giants are sure to be back in Melbourne Halloween stores this Halloween. In Canada, these costumes were flying off the rails as early as September. If you were lucky enough to get your hands on one last year – we'd love to see your photos!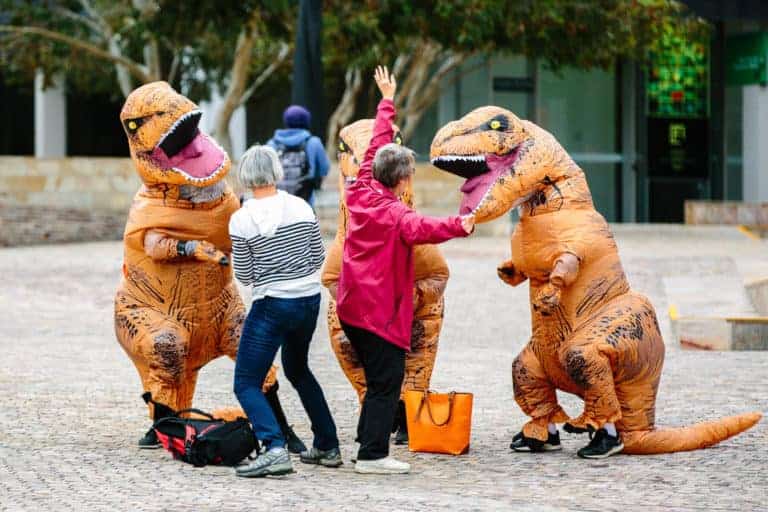 When it comes to the popularity of inflatable Halloween costumes – it doesn't stop at dinosaur styles. Our 2017 Halloween costume contest winner Nancy and her her family teamed up as a crew of Ghostbusting boys and girls to fight off the Stay Puft Marshmallow Man – another of 2017's most popular inflatable Halloween costumes.
Pennywise Halloween Costume
One of the creepiest costumes of the year was, probably unsurprisingly, one of the most popular.
Every time we see the photos, we hear "you'll float too" from the creepy scene in this summer's IT movie. Did you see it? What did you think? No scrap that – enough of the movie, check out some of the incredible Pennywise Halloween costumes that were shared on our Facebook page!
Food Costumes
If you're feeling hungry, look away now. These Halloween costumes may get your stomach rumbling.
For years adult Halloween fans have seen that they only have two options at Halloween, scary Halloween costumes or sexy Halloween costumes but in 2017 – we shook it up!
Dressing up as your favourite snack is a sure way to get the conversation flowing at any Halloween party. And once again, you guys know how to do food themed Halloween costumes.
Check out Michelle's hilarious cereal killer costume!
So, these were the top Halloween costume styles of 2017, did you go for any of these options? We've started making our predictions for 2018's hottest Halloween costumes already, have you? Let us know on Facebook and if you haven't already, share your 2017 Halloween costume photos with us – we'd love to see them!