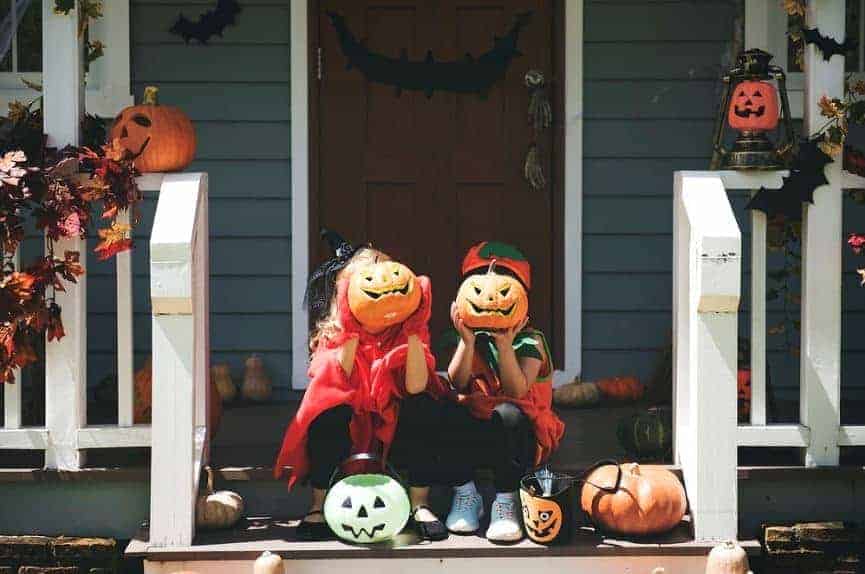 While Halloween may look different this year, it doesn't mean our favourite holiday has been cancelled. As provinces prepare to release guidelines on how to celebrate Halloween safely (suggestions so far include pre-packaged candy, contactless trick-or-treating, and setting aside Halloween candy for several days before digging in), we're eager to mark the day we all love.
If you're thinking of staying in this Halloween, you can still make it a spooky night to remember — whether you're celebrating with the kids, as a couple, or on your own! Here are a few ideas on how to make Halloween 2020 a memorable experience no matter how your family is choosing to celebrate.
Set the Scene
First thing's first, every home Halloween celebration needs the perfect backdrop! Nothing gets you and the kids amped up for the scariest night of the year like a Halloween-ified home. Decorating inside and outside your house not only gets your family excited, but helps spread Halloween excitement for the whole neighbourhood. Bust out those frightening animatronics, cobwebs, skeletons, and tombstones. Adding in some DIY Halloween decorations is also a great way to get the kids involved and excited in the lead up to the big night.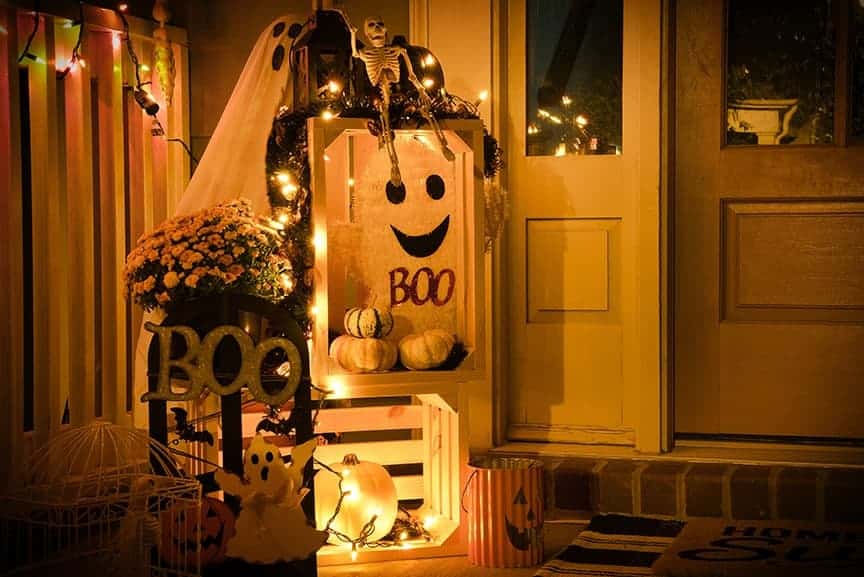 Creepy Candy Hunt
The house is decked out and the spooky night has arrived. The family is donning their costumes and you're ready to celebrate together! If your little superheroes, vampires, and princesses won't be going door-to-door this year, you can still give them a Halloween they won't forget. Buy your children's favourite candy and hide it around the house, Easter-egg-hunt-style. Then turn off the lights, give the kids glow sticks, and have them creep through a haunted house in search of their treats.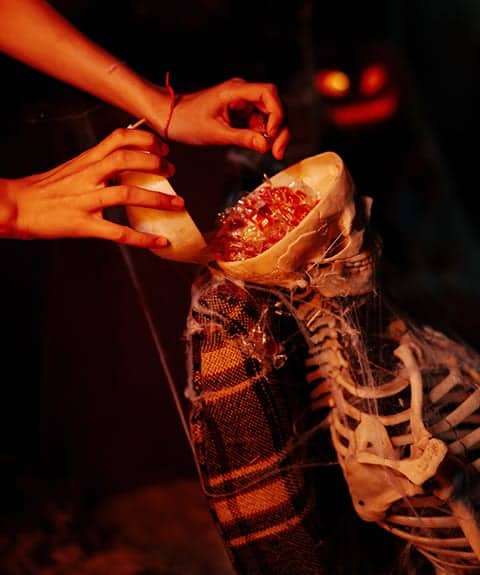 Ghost Stories
When's the last time you swapped spooky stories in the dark? This is the year to reignite the age-old telling of ghost stories! Gather around the campfire, fireplace, or a creepy, candle-lit living room to set the mood for your terrifying tales. Grab a book of ghost stories and have each family member read one or two. For the grown-ups, look up stories of true, unexplained phenomenon —ones that have happened nearby are particularly chilling…
Find spooky, kid-friendly stories to share with the family here.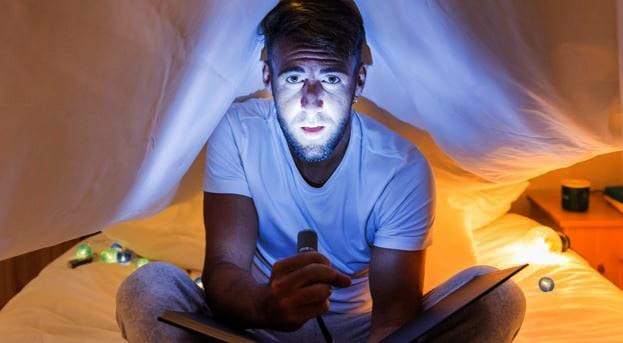 Horror Movie Marathon
What better night could there be to have a movie marathon with your favourite Halloween flicks? Everyone has their go-to classics in October — from Hocus Pocus to The Nightmare Before Christmas to Halloween. For the kids, there's Casper, Monster House, Goosebumps, Hotel Transylvania, and many more. Gather up some tasty Halloween-themed snacks and drinks, then curl up on the couch for an eerie evening. You can even turn it into a socially distant watch party with your best friends.
Check out the top picks for a Netflix Halloween movie marathon here.
Monster Mash Dance Party
You don't need to go any further than your own living room to bust out those dance moves. With the house decorated, have the kids throw on their costumes, turn off the lights, and flick on some black lights or an effect party light (available at Halloween Alley) and get the party started. Create a Spotify playlist with classic Halloween songs, like Monster Mash, Ghostbusters, Werewolves of London, and This is Halloween. The kids can also pick out theme songs from their favourite Halloween movies. And what would a Halloween dance party be without turning on the Thriller music video and performing the dance yourselves?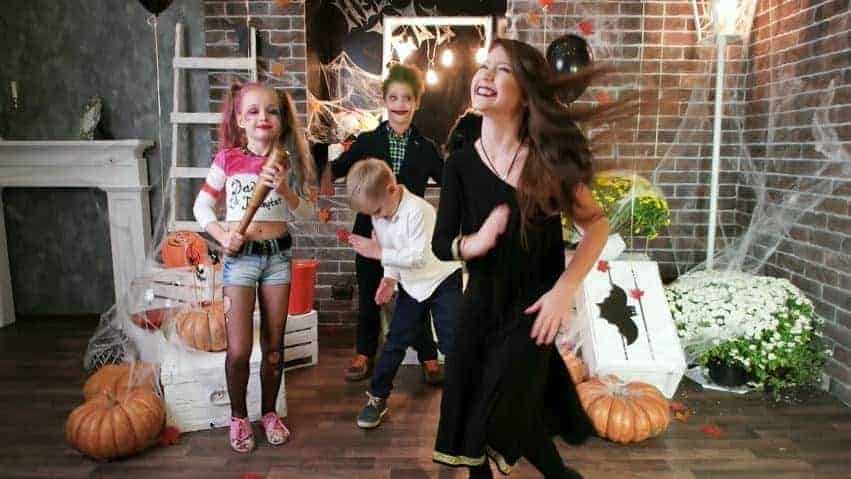 Halloween Games
Try a spooky twist on family game night. There's a wide variety of Halloween-themed games for the whole family to play — from charades to a haunted scavenger hunt for specific Halloween items around the house. Put on that Spotify Halloween playlist for background music and you're good to go.
Check out some fun Halloween game ideas for kids here.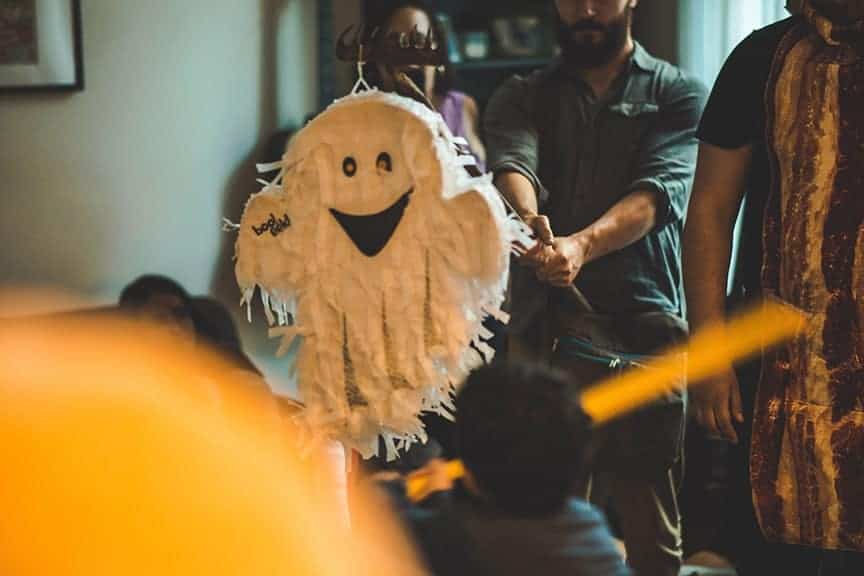 Zoom Pumpkin Carving & Costume Contest
Celebrating at home doesn't mean you can't have fun with friends. Take the party digital with a Zoom meeting between your kids and their friends. It's a great way to hold a socially distant pumpkin carving contest or costume contest. It also gives grandma and grandpa or other relatives who live further away a chance to check out your kids' costumes this year!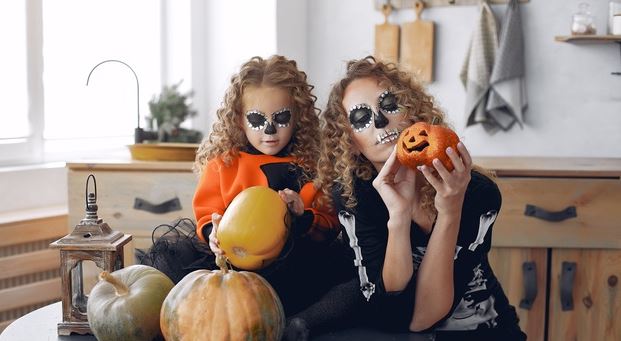 All Halloween Alley locations across Canada are now open for the season! You'll find everything you need to celebrate life, Halloween style! — whether it's trick-or-treating or making new Halloween memories at home. From costumes and makeup to décor and props, we've got you covered.
For the health and safety of our staff and customers, we're taking precautions and following each province's COVID-19 guidelines for retail businesses. This includes limited store capacity, physical distancing guide markers, hand sanitizer available throughout the store, limited fitting room capacity, sanitizing products and fitting rooms after each use, sanitizing the debit terminal after each client, regular sanitization of surfaces throughout the store, masks worn by Halloween Alley team members, and masks worn by customers in communities where required. Thank you for doing your part to help make this Halloween safe and fun for everyone!