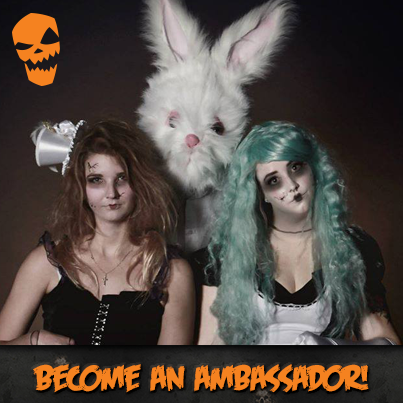 Are you absolutely in love with Halloween? Do you wear costumes at events all year round? Do you find yourself constantly on social media? If so, join us in celebrating Halloween as our Brand Ambassador!
As a Brand Ambassador at Halloween Alley, we'll hook you up with cool costumes, props and more. You also will have an exclusive sneak peek of all upcoming events, new product launches, etc.
Requirements:  
All you have to do is mention us weekly on your social media profiles and link to our site in your monthly blog posts. It's that simple! More details to be provided to all shortlisted candidates.
Brand Ambassador Criteria:
You must be active on Twitter and Instagram
You maintain a regular blog
Bonus points if you have a professional cosplay page on Facebook!
How to apply: 
Please email: [email protected] with the following 5 pieces of information:
Subject line: I love Halloween 
First, Last Name
City
Facebook Page + count of Likes (If a Cosplay page is applicable)
Twitter handle + count of followers
Instagram + count of followers
If you're considered, we'll be in touch with the specific deliverables and details of this program. We will be in touch early August.
At Halloween Alley we work hard to celebrate life, Halloween style. We want to give back to YOU by helping you do just that! Like what we're offering? Visit our Facebook page or follow us on Twitter and Instagram for more cool offers and events!
Celebrate Life. Halloween Style!
Note: this program is available in Canada only. No purchase necessary. 
Photo courtesy of  Tika Michelle Photography.