In 10 days, The Avengers: Age of Ultron will be out in movie theatres Canada-wide! To celebrate, we're hosting a movie ticket giveaway so you can see The Avengers as soon as they come out! We're sure to see lots of great Avengers costumes this Halloween after this movie makes a splash on the big screen.
The Avengers are a misfit group of superheroes. Some of them are cool and savvy (Iron Man) while others are conflicted and misunderstood (Hulk). But make no mistake-every member of The Avengers is strong, powerful, and deadly.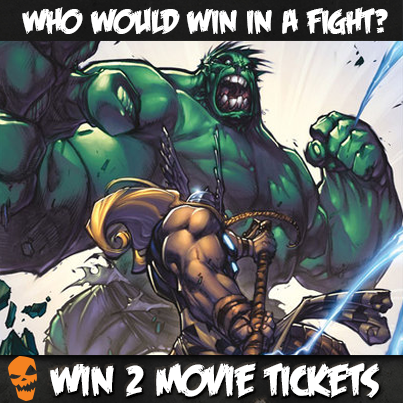 When thinking of brains vs brawn, there is no other comparison that stands out more than Bruce Banner and his alter ego, The Incredible Hulk. His brilliant mind houses astonishing anger in the form of The Hulk. Thor, on the other hand, is a Norse God. Both heroes are extremely powerful-nigh unbreakable. On one hand we have an immortal God. On the other hand, we have an indestructable wall of power and green muscle.
This is a matchup that is worthy of the (norse) Gods. Throw in your ballot and vote for your favourite hero on our Facebook page!
Can the Avengers triumph against Ultron's robotic army? We've seen them do it before by thwarting Loki's plans for world domination, crushing an army of alien invaders. But there is no portal to close. Ultron's army is significantly larger. And Ultron himself is armoured with vibranium, the same material as Captain America's shield!
So how will the Avengers fight against this new nemesis? Find out for yourself on May 1st! But for now, join our Avengers discussion and earn a chance to win free tickets! Navigate to our Facebook page or follow us on Instagram to enter and win. We also post cool stuff on Twitter, so give us a follow!
Entry is limited only to contestants that reside in Canada.