Christmas is coming, but that doesn't mean that our Halloween spirit has weakened in the slightest! Christmas is a great time to spend time with your family, and for us this means that we do it with our usual traditions…Halloween Style!
If Jack Skellington has taught us anything, it's that Halloween is year round…including the Christmas season! Even though Halloween is obviously the BEST holiday of the year, we've got to give Santa a few props for trying to dress up. As an elf. Or a a candy cane. Or whatever his red-and-white costume is.
Hey, at least the man gives out candy canes. He's probably the kind of guy who'd give out full-size chocolate bars during Halloween, so we'll give ol' St. Nick that much!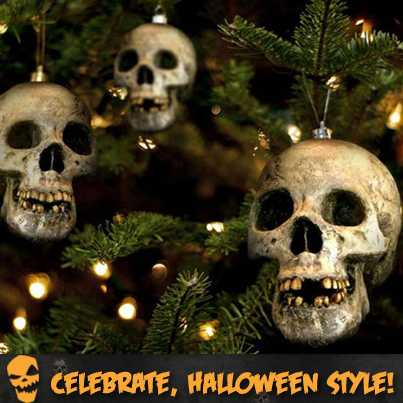 For us Halloween lovers, Christmas is but another chance to strut our stuff. Remember now, if you've got it, Haunt It! Here are 5 ways to celebrate Christmas. Halloween Style!
1. Halloween-Themed Christmas Baubles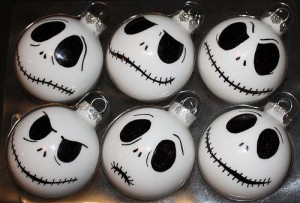 Use paint to draw in wicked faces or Jack Skellington expressions on your Christmas baubles. You could draw in Jack-O-Lantern faces on orange baubles,
1. Halloween-Themed Christmas Trees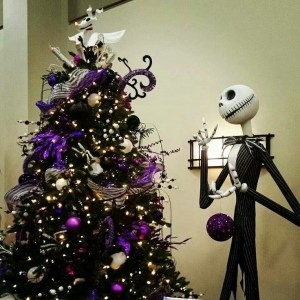 Using the same baubles above, you could decorate your own Halloween-themed Christmas tree! Use White, Orange, Purple and Black to stay on point. Decorate with zombies, witches and gho-ho-ho-sts! The scarier, the merrier!
2. Halloween Decorations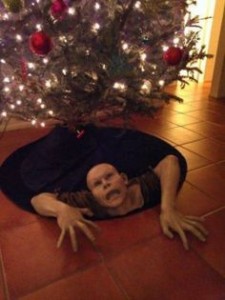 What a time to bring out the Zombie gear! The most shocking decorations are when visitors least expect them. Take your zombie animatronics out for a second spin this year!
3. Halloween Candy Comes Again!
What better to snack during the holidays than sweet, sweet delicious HALLOWEEN CANDY? That's right, bring out the sweets for a second round during Christmas by serving them at parties. Candy canes are great, don't get me wrong, but you can't resist a good ol' chocolate bar…
4. Take Creepy Photos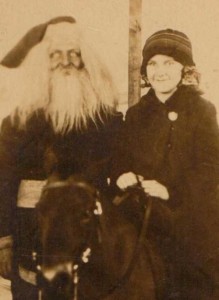 We're a bit strange. In a good way. But seriously, why would you ever want to take a normal, boring photo with santa when you could take a creepy photo instead? Spice up your pictures with creepy smiley faces, Zombie Santa masks, or even bring out the Halloween makeup for a hilarious Addams Family-esque picture!
Like what you see? Or do you have have ideas of your own? Share what you've got planned for Christmas on our Facebook page! There are 327 days until Halloween, so we've got plenty of time to chat and be weird in our own awesome way.
This Christmas, let's make it extra fun. By celebrating Christmas. Halloween Style!