What is the best thing about Halloween? Well, dressing up, of course, but also celebrating! Celebrating life. Halloween Style! As we say it. This year we are prepping something new for you! We want to make Halloween more fun and give you even more ideas on how to celebrate. We'll take all the guesswork out of your preparation for Halloween and will give you cool ideas about which costumes to choose, and how to celebrate Halloween 2015 to the max!
With that, every week, staring Monday, September the 7th we will have a new theme in all of our stores across Canada, and will make sure you have more than enough ideas for your costumes, your party, or your decor this Halloween. Pirates, Zombies, Medieval characters – we've got it all! Just tune in to our Social Media channels or just drop by your local Halloween Alley and have a blast!
To kick this off, Monday, September the 7th marks the beginning of Family Week at Halloween Alley! Celebrate Halloween. Family Style!
For Family Week, our stores will feature our best group costumes with styles for parents, children, and even the family pet. No-one gets left behind in the family! Come and celebrate as a family – we'll have fun activities for kids, and entertainment for the parents. Check our location map to find a Halloween Alley store near you and to confirm what they are planning this week.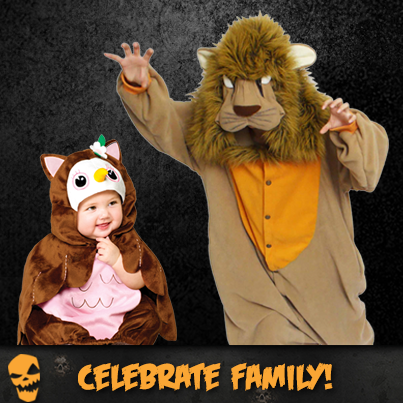 In celebration of Family Week, we're also giving away $30 in tickets to see Hotel Transylvania 2! In the sequel to the 2012 movie Hotel Transylvania, Dracula tries to bring out the monster in his half-human, half-vampire grandson. With a misfit cast of monsters and their hilarious shenanigans, Hotel Transylvania 2 will be fun for the whole family!
How to enter:
To enter the draw, simply respond to our Facebook post with your favourite Halloween family moment or share a family Halloween photo.
With only 57 days left until Halloween, we couldn't be more excited about the best day of the year! Our Halloween stores are already open in Abbotsford, Edmonton, Kelowna, Langley, Lethbridge, Moncton, Moose Jaw, Prince George, Prince Albert, Sarnia, Saskatoon, Surrey and Victoria. The rest of our 40 stores are opening as we speak, so connect with us on Twitter for live updates on when our stores open in your city!
Love Halloween? Check out our Facebook page and join a community of over 50,000 other Halloween lovers! Are you a visual kind of person? Connect on Instagram and Pinterest for photo reports directly from our stores!
Celebrate Life, Halloween Style!