This weekend is our second favourite holiday (after Halloween, of course) –  Canada Day! As a truly Canadian company, we can't wait to "Celebrate Life. Canada Style!"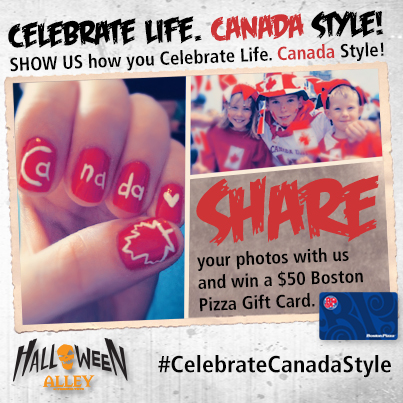 We want to hear from YOU, how are you celebrating Canada this weekend? Are you dressing up? Painting your face? Spending it with your family?
Connect with us on Instagram or Facebook and SHOW US how you're Celebrating Canada Style on Canada Day. We'll feature the best pictures on our Facebook page, just use the hashtag #celebratecanadastyle and don't forget to tag us @HalloweenAlley
Enter the form below:
[contact-form-7 id="3056″ title="Canada Day_copy_copy"]
Don't forget to heck out this Pinterest board for some inspiration!
Not sure what's happening in your city? Here are some links to events happening in different cities across Canada.
We're stoked to see your photos and how you Celebrate Canada Style. And by the way, we've got Halloween stores in two new cities this year… Hamilton and London, can't wait to meet you, neighbours. And you know what the biggest holiday after Canada Day is… HALLOWEEN! Only 121 day left!