Happy Halloween Eve!
To all of our friends across Canada — thank you for your continued support! Stay safe, and have an awesome celebration tomorrow and this weekend!
We're excited to announce our post-Halloween sales — this weekend, we will have 50% off all leftover costumes from this season! For everyone that celebrates Halloween year-round like us, this is your chance to save. Want a jump start on next year's Halloween costumes? Visit any one of our store after Halloween!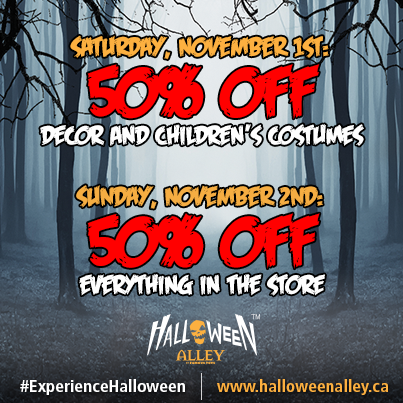 Starting on Saturday, November 1st, we have 50% off the origin price on all leftover children's costume and Halloween decor!
Sunday, November 2nd — everything left in the store will be 50% off original prices!
Find your local store and come in as soon as possible for the best selection — our remaining stock will move fast during this sale!
All stores are open on November 1st and 2nd, with some open into next week. For more information, check our locations page.
Celebrate Life, Halloween Style