Planning a wicked Halloween party? Look no further, we've got the ultimate checklist for the best, bloody-awesome party to hit your city!
Music
From Thriller to horror soundtracks, music sets the tone for all Halloween events! Make your playlist ahead of time so you can kick back, relax and enjoy the mood on the day of the party!
We recommend classics such as Thriller, or scary soundtracks from Friday the 13th or the Nightmare on Elm Street. For children-friendly music, look to The Addams Family or The Monster Mash!
Scary Decorations & Props
Every good Halloween party needs its props. Set up some wicked Jack-O-lanterns, ghouls, zombies and other decorations around the house. Animatronics work great here to spook the living daylights out of your unsuspecting guests!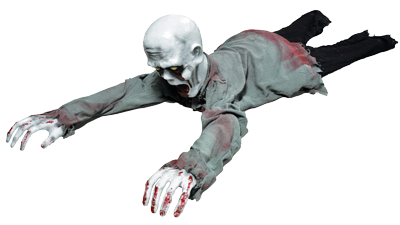 Don't forget the classics. Dangling spiders, cobwebs, balloons, bats, tombstones and bones make for great Halloween decorations!
Spooky Punch
Startle your guests with a blood-red party punch, or use a green/purple mix to test the stomachs of even your bravest guests. Want an eerie effect? Add dry ice to create a mist around your punch!
Don't forget the cups! Use zombie-themed glasses or skull mugs for a great on-theme effect. It's a no-brainer!
Freaky Appetizers
Fancy some fingers? Eyeballs? Guts? Use finger foods such as wieners, peeled grapes and spaghetti to create some great appetizers!
Utensils and Tablecloth
How are you going to eat your snacks without cutlery? Use red knives and black tablecloth to set the bloody Halloween scene before you dig in to your meal. Decorate your tablecloth with drops of blood and other effects. Is that a dinner table? Or…an operating table?
Really set the mood by using candles for lighting!
Halloween Candy
Hosting a Halloween party without Candy is a terrible joke. Not even funny. You HAVE to have candy for Halloween! Set out glass jars filled with colourful gumdrops and gross-looking gummies so your guests can help themselves!
Don't forget a scoop and plastic bags so your partygoers can take some goodies home in their loot bag!
Costumes & Guests
Well, duh! What's a party without people? Start inviting your friends way, way in advance so that they RSVP in time. Make it mandatory to show up in costume, no-one likes a party pooper!
Lastly, don't forget a camera to take pictures of this memorable event!
Celebrate Life. Halloween Style!™