From everyone at Halloween Alley HQ and from all of our stores across Canada, thank you once again for your continued support and for making this Halloween the most fun one we've had yet!
Our stores are now closed for the season, and will re-open next year for Halloween 2015. Sign up for our newsletter on the bottom of this page to be the first to know our new locations in your city for 2015!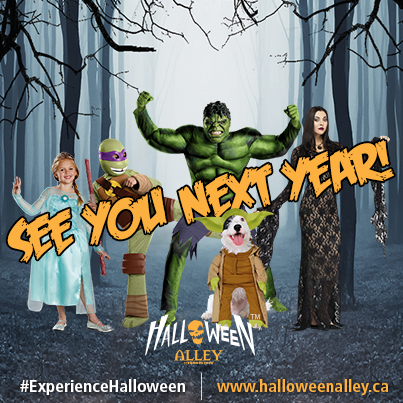 We couldn't do it with YOU, our awesome fans, and we absolutely love seeing your Halloween photos, and reading your stories this week!
Of course, we are still wrapping up our iPad costume contest so stay tuned for our winners. We have so many different submissions to go through on our Facebook and Instagram pages. Our three lucky winners will be announced by the end of this week!
It doesn't end there though.. Stay in touch on Facebook too — we have movie contests and giveaways on our page year-round! We'll also have previews and new costume ideas to keep you inspired all year.
Join us, and never stop Celebrating Life, Halloween Style!