Pumpkins, ghouls, and Halloween thrills
Make spirits shiver all over.
For when the sun is laid to rest
and night sweeps through October
what shines its face, throughout the night? 
The Jack-O-Lantern weeps, in yellow light!
The master craftsman, toils and works
to dye his art in wicked sin.
He works to post on Instagram
Tag us, and hope to WIN!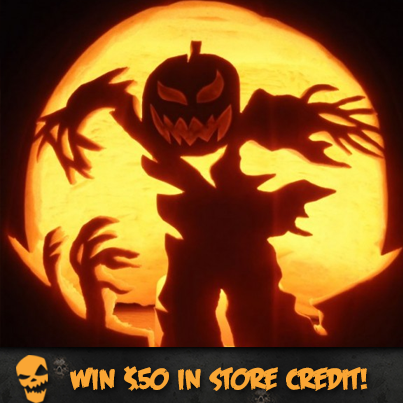 Are you carving pumpkins for Halloween this year? Share your best pumpkin carving pictures with us and win $50 in store credit! Pumpkins, Halloween, free swag, what's not to love? It's time to get creative!
How to Win
Share your pumpkin masterpiece with us through Instagram by following us and tagging @halloweenalley in your photo from October 16-25 for a chance to win! Each photo you share will count as an entry into our contest, so spruce up your chances to win with more photos!
We'll announce the winner on October 26th via Instagram. Follow us so that you don't miss any updates! We look forward to seeing your Halloween creativity! Need some ideas? Visit our blog for a creative boost!
Contest valid for residents of Canada only. Please see full contest details here. Good luck to all of our participants: we can't wait to see your Jack-O-Lanterns!
Celebrate Life. Halloween Style!