Six days until Halloween! Time to kick things into high gear and start planning for a wicked Halloween party! Costumes, music, movies, games and food are the highlight of a bloody-awesome event. Here are 6 finger food ideas that will make your friends die of jealousy!
6. Themed Cupcakes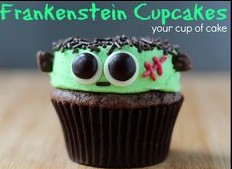 Everybody loves cupcakes! Make Halloween-themed cupcukes using sprinkles, candies and coloured frosting. We've shown a Frankenstein cupcake above, but the possibilities are endless! Ghost meringue cakes, Zombie brain toppings, Jack-O-Lantern-shaped muffin-tops, just decorating is half the fun!
5. Baked Mummies
These mummies have been out in the sun for way too long! Make these satisfying snacks by wrapping wieners in dough before baking them in the oven. You could also make bandaged zombie-fingers by cutting small wieners into shapes!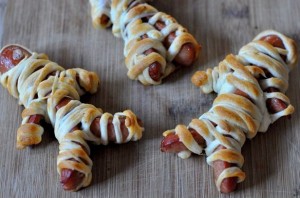 4. Jalapeno People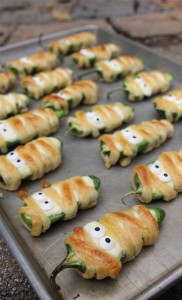 You've had Jalapeno Poppers. But what about Jalapeno People? For the vegetarians amongst us, you could use vegetables such as peppers to make tasty, Halloween-themed snacks. Don't they look great! Good enough to eat…
3. Rice Krispie Pumpkins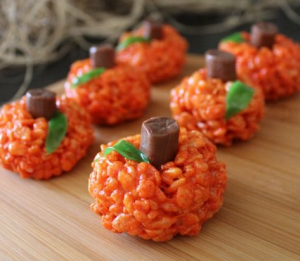 Remember good ol' Rice Krispie squares? Use orange food colouring to create works of art with these Rice Krispie Pumpkins! Style your work using gummies, chocolate and candies to make crazy, crunchy munchables.
2. Spider Pizzas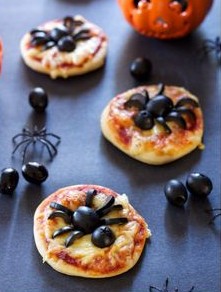 We almost called this the Ants-In-Your-Pantzza. Use olives to style spider-like shapes on to your pizza snacks. You can get fancy and add wiener fingers and other edible decorations to fit the theme! Between these savory spiders and treats like gummy worms, you're going to have some wicked awesome compliments from your guests!
1. Chocolate-Dipped Strawberry Ghosts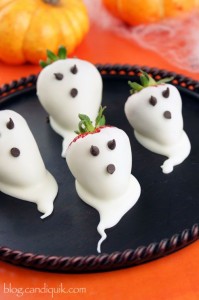 These are really fun to prepare in advance! Use melted white chocolate to dip and coat strawberries, resulting in chocolate-dipped ghosts when left to dry. Don't forget the chocolate-chip eyes, and make sure that you sway the tray so that the "tails" trail to one side as they cool. Aren't these cute?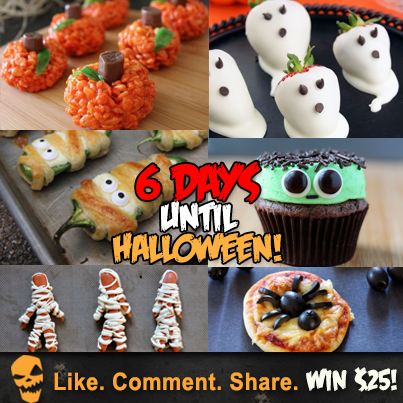 Do you have a favourite treat from our list of 6? What other fancy Halloween foods do you have in store for your guests? Let us know on Facebook and earn a chance to win $25 in gift certificates!
Celebrate Life. Halloween Style!