Have you recovered from our T-Rex event yet?
We are still loving the T-Rex Terror, and the hilarity of ten T-Rex's driving a Jeep! Missed it? Click here! Items are definitely closer than they appear!
Well. We hope you have recovered, because we have a great event happening in every store. (except our Halloween Clearance centres. Yes, you read that right – we have 3 Halloween Clearance Centres Winnipeg, Red Deer and Brampton. But more on that later!)
Thursday through Saturday, October 4, 5 & 6, All Star Wars Items are 25% Off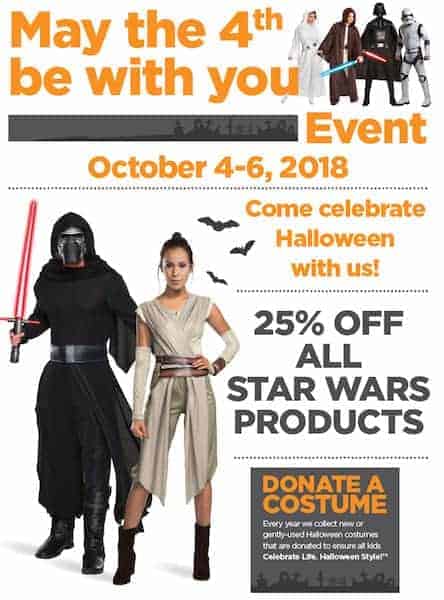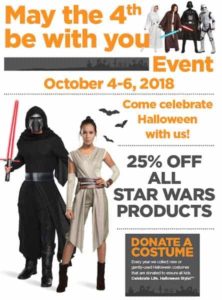 Channel your inner Chewy. Come to peace with your Vader attitude. Or, if the newer Star Wars are more your jam,  channel your inner Finn, Rey, BB-8 or Kylo-Ren. Whether you want to dress yourself up, your family, your children, or your pet – we have got something for you! And again, at 25% off October 4, 5, & 6!
Are you the ultimate Star Wars fan? Beano has a great quiz to test your knowledge!
They also have videos of Who said it: featuring Ed Sheeran or Snoke. Or, Are you a Jedi or a Porg? 
Or our personal favourite Jedi Unicorns. Again, you read that right. Jedi Unicorns. Have a minute, you can waste it with a giggle over this video!
Our countdown is starting to heat up as October is almost here! Keep your eyes locked and loaded to our Facebook and Instagram pages to have the most up to date information on events, contests, and new product!
#HalloweenAlley
#CelebrateLife.
#HalloweenStyle!