Need some extra spark for your Halloween costume? Try upgrading your costume with custom do-it-yourself props and accessories. Nothing adds that extra oomph to your Zombie look than a nail in the head, or a hole in your leg. Run wild with Woochie prosthetics and makeup!
The sky is the limit-from wigs and glasses to lens and masks, we've got all the props to do the task! Here are some of the best DIY ideas to spice up your Halloween 2016 costume!
1. Flesh-eating Mask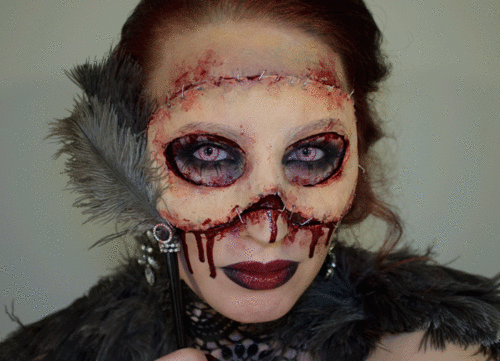 Combine a traditional masquerade mask with an underlying layer of makeup for an epic effect. You'll have to modify an existing masquerade mask so that the colour matches your skin tone, then create the bloody effect surrounding your eyes. You'll be the life of the party with this outfit!
2. Spooky Spectre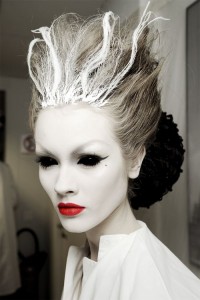 Who said simple can't be scary? This modern take on a ghostly bridesmaid from Girlshue proves that even a simple colour palette of white, black and red can have amazing effects.
A wig, some lipstick, and a good amount of makeup. Simple products. Amazing effects!
3. Face-Painted Nutcracker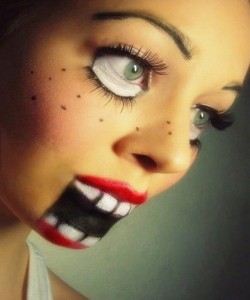 Using halloween face paint on top of regular cosmetic makeup can have really cool finishes. Unlike #2, a face-painted nutcracker/doll doesn't have to use up all your makeup-just enough to create the effect!
4. Alien Monster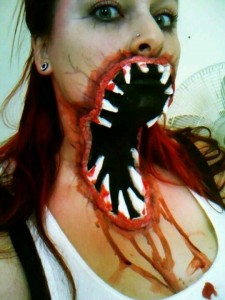 Here's a big trend. Face paint that runs past the chin and onto the upper half of the neck is often used in Halloween makeup. Our makeup artist in Abbotsford loves to do this sort of custom makeup! For extra texture and effect, you can even use Woochie prosthetics or a layer of dried latex for teeth, skin or scars.
5. Tokyo Ghoul – Rize Kamishiro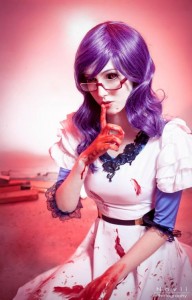 Are you more of an Anime fan? Tokyo Ghoul characters are great for Halloween! Here we have a Rize Kamishiro cosplay by Shiro Cosplay. We love the white dress and blood effects! Pick up a set of red demon contact lenses to get the "Ghoul" look from the anime. Your cosplay just isn't complete without it!
6. Gaunt Wig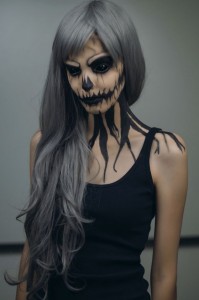 A great face paint job isn't complete until you've got the hair to match. Use dark-colored wigs to completed a spooky look, or use bright and bubbly pink hair to contrast and finish a happy, colurful costume!
Halloween wigs. They're just so much fun!
7. Skyrim – Dragonborn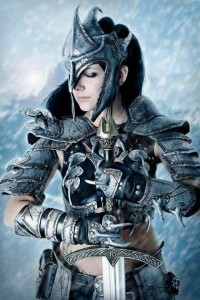 So you want to be a true Dragonborn, eh? Be warned – it's a difficult path. You must master difficult spells, shouts, and a whole slew of combat skills. But most importantly – you need to fight! What's a warrior without their weapons? Choose a custom sword to go with your suit of armor, and ride into battle with your head held high and your sword held higher!
8. Parasyte – Migi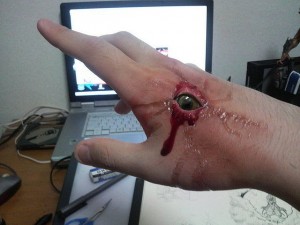 Another one for Anime lovers specifically, but an inspiration for us all. Prosthetic parts are usually used on or around the face, but what about your other appendices? Put a Third Eye on your hand instead of your face, surround it with latex flesh and blood, and BAM-instant creepy effect.
This particular piece references Parasyte: The Maxim. Who doesn't love Migi?
9. Costume Mix+Match!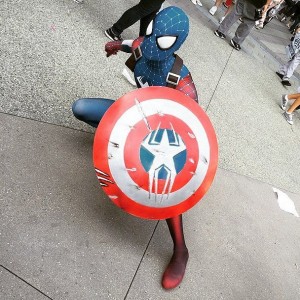 No, you're not mistaken. This is a cross between Spiderman and Captain America. A truly EPIC cross if we may say so ourselves! This unknown parader blends our Friendly Neighborhood Superhero with our Friendly Neighborhood Country's mascot. How awesome is that?!
Mix and match costumes for a cool, unique effect. Why not do Batman with Iron Man parts? The jet thrusters, the palm cannon? Or even The Hulk with a different color scheme using unique face paint? Get creative!
10. Alternate Costumes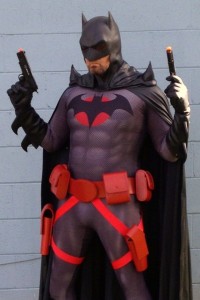 Speaking of alternate superheroes – did you know that in an alternate universe, Thomas Wayne (Bruce Wayne's father) is the Batman and uses guns? Alternate Costumes often call for alternate props.
You're probably going to have a hard time finding a Thomas Wayne costume online. That's where the "DIY" portion of the outfit kicks in! Using a regular Batman costume as the base, add props and red accessories to craft your own Thomas Wayne cosplay. Use a red utility belt instead of the traditional black, and add a red circular outline to surround the Bat Symbol. Batman with guns – it's cool, it's canon, and it's all yours to craft!
Don't leave the planning to the last minute! Start preparing now!
Celebrate Life. Halloween Style!