Transformers 4: Age of Extinction hits theatres later this month, and we are looking back at the evolution of the Autobots, and also giving away two tickets to see the movie! Check out our Facebook Page this week and join in the conversation for a chance to win 2 tickets for the June 27th release date.
Halloween Alley is also excited to be offering a Bumblebee children's costume for Halloween 2014! (Available in select stores.)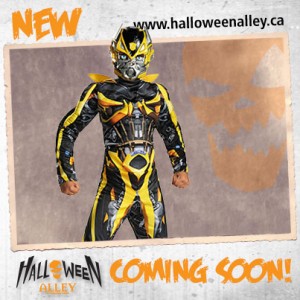 Stop by our products page to preview other men's, women's and children's costumes we'll have for this season.
*Movie Ticket Giveaway Promo is for Canada only, for two tickets for Cineplex theatre (value of $30). The winner will be notified on Facebook and have 48 hours to claim the prize (tickets will be sent online).