After ten years, the epic new Star Wars movie is finally here! Don't miss your chance to see Harrison Ford, Carrie Fisher, and your favourite cast of heroes and villains in this continuation of the space epic!
Unless you've been living under a rock, you probably already know all about Star Wars: The Force Awakens. But if you don't, you can check out the trailer below!

Oh, boy. New droids. New sith. New Jedi! Ahhhh! We're too excited to see the Halloween Costumes coming out of this movie. The new sith lightsaber looks too badass!
Are you excited for Star Wars: The Force Awakens? Or are you more of a fan of the classic, older movies? Let's settle the debate of Old vs New. Like, Comment, and Share our Old vs. New posts on Facebook this week to earn a chance to win tickets to see the new Star Wars movie!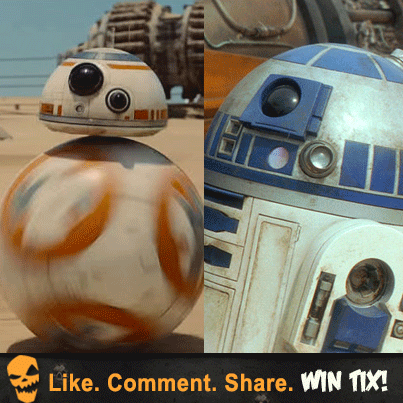 Old vs. New! Which one is better? You decide! Follow us on Facebook, Twitter and Instagram to be the first to know when we post more chances for you to win Star Wars tickets. See you soon!
Celebrate Life. Halloween Style!