The Invasion is in full swing! Strange sources are reporting an influx of undead activity at 40 different halloween stores across Canada. This surge in activity, now dubbed by experts as "Zombie Week," will take place from October 12-18. Don't miss out on your chance to battle the undead!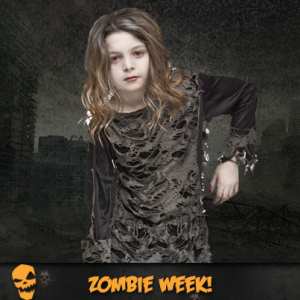 There is only one rule in a zombie apocalypse: survive. If you want to live through the zombie apocalypse, you'll need to follow these three survival steps:
1. Get your gear!
Fortunately for you, the safest haven is in the eye of the storm: Halloween Alley stores throughout Canada! We've got survival packs, weapons and gear for you to last through the night. Get your gear and stay prepared for the main event, the night of Halloween!
2. Get in shape!
To sharpen your senses, you're going to need some tactical training. Visit our halloween stores to see what Zombie-related events are going on throughout the week! Train yourself to find and recognize zombies at Pitt Meadow's Build-A-Zombie event, or dance with death at Lethbridge's Zombie Swing Dance festival. We've got tons of events in store, so visit your local Halloween Alley to get your zombie on!
3. Play dead!
Everyone knows that when encountering a grizzly bear, your best bet is to play dead. The good news is that when encountering a zombie, you can play dead and keep on shuffling! Call or visit your nearest halloween store to find out how our staff can help you put on zombie makeup to help you get in character. Our Vancouver halloween store, for example, has weekly Wound Wednesday makeup tutorials.
Don't miss out on your chance to win cool prizes! Visit your local Halloween Alley, such as our halloween store in Brandon MB, to see your local weekly events.
Are you going to be a survivor of the outbreak, or will you too become a zombie? Stay alive with us, and fill us in on our Facebook page! We'll be posting live updates on Twitter and Instagram, so follow us to stay tuned on the latest zombie news.
Celebrate Life. Halloween Style!