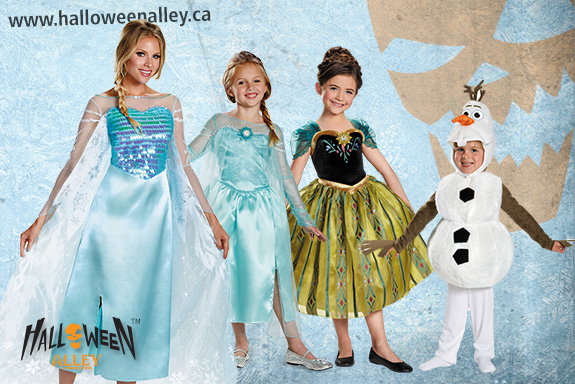 It's official — Frozen is basically the most popular movie ever! It is literally the most successful animated film ever released (and the fifth of any film ever, regardless of category). Although the movie is a technically stunning production, we think this amazing success is mostly because of the awesome characters. Especially Olaf. The movie was also released at somewhat of an awkward time (November), so although it's almost a year old this is the first Halloween that we'll see costumes — and if the amount of people asking is any indication, these will be some of the most popular costumes for Halloween 2014! So yes, we are excited to have Frozen costumes in our stores for Halloween 2014! Below are our three favourite versions of costumes from the movie.
Elsa, The Snow Queen (Adult Costume)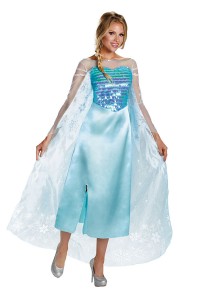 We have Elsa costumes available for adults and children, so any one can be the Snow Queen this Halloween! This costume features Elsa's beautiful dress and cape, and is instantly recognizable.
Anna (Child Costume)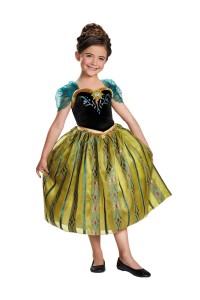 Elsa's younger sister (and rumoured to become the 12th official Disney Princess) Anna is one of the most popular Disney characters ever. This costume features her coronation dress.
Olaf (Child Costume)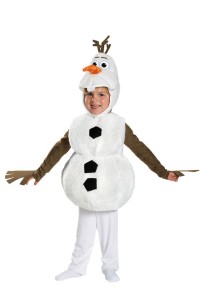 And of course, Olaf. In our books, he replaced Frosty as our favourite ever snowman that comes to life, and with that also became one of the cutest halloween costumes for kids this year. You really can't go wrong here.. we can't imagine this getup being anything but adorable!
If you're looking for awesome Frozen costumes, Halloween Alley is your source. Along with some of our other favourite group costume ideas, Frozen is ideal for a group of friends or family members of varying ages to coordindate their costumes. Get in touch with your local store, and don't forget to upload a photo of you in one of these costume to our 2014 iPad Giveaway Costume Contest! We're anticipating many versions of Elsa, Anna, and especially Olaf, and can't wait to see what everyone comes up with!
Celebrate Life, Halloween Style