Gone are the days where you would masquerade as a Ceiling Fan by carrying a sign labeled "Go, Ceiling, Go!" It's time to step it up a notch with a real costume! If funny costumes are your thing, we've got just the stuff to make your Halloween perfect. Here are our top picks for funny Halloween costumes:
Waldo
I get it. You want to be the center of attention. "Why would you pick Waldo?" you may ask. But this is reverse psychology-nearly everyone will chuckle when they see your outfit and shout "HEY! I FOUND YOU!" Alternatively, you could photobomb every couple at the party and still stay in character. Are you the joker of the group? Well, a Waldo costume gives you free reign to be the funny guy or gal that you are and prank everyone through Halloween. Stay classy!
Banana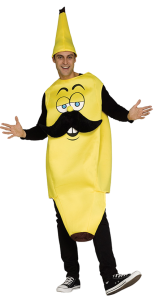 You know what's hot this year? Minions. You know what Minions love? Bananas. Imagine crashing a costume party filled with Minions large and small. Perfect photo opportunities everywhere!
Heck, you could even dress up as a Minion overtop your banana costume. A costume within a costume. A costume-ception! With a banana costume, the sky is the limit.
Rock, Paper, Scissors

This one takes a little co-ordination but, trust me, it'll be worth it. Get two friends to participate and you can spend the rest of the night high-fiving people that want to give you a fist bump, fist bumping people with the peace sign, giving the peace sign to people that want to high five you, and acting all confused when you ask them "What'd I win?"
Lobster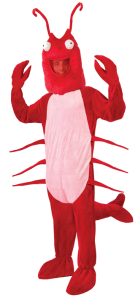 Look at it. Just, look at it! Imagine crashing a party dressed up as a huge lobster, running around making lobster noises. At McDonald's? You're a Mclobster. At a concert? You're a rock lobster. At a costume convention? You're totally NOT Zoidberg. There are way too many priceless moments with a lobster costume. How will you make the most of it?
Get your pet in gear with these funny options!
Or show off your alter ego in one of these fabulous options.
Do you have any funny costume ideas of your own? Or perhaps a Halloween prank you plan to perform this year? We always love a good gag. Let us know on our Facebook page, or follow us on Twitter and Instagram to keep in touch!
Celebrate Life. Halloween Style!